Last week a historic badminton event was held in Finland as the Sudirman Cup (world mixed team championship) was played in Vantaa. We had most of badminton's biggest stars here in Finland and for example the winning team China had more than one Tokyo olympic medalist in their team. Now we get to hear what the experience was like seen from the line judge's bench as Mikko was helping in the competition as a volunteer. Mikko has experience from all kinds of technical official duties, like announcer, showing points, giving medals etc. He has also been a line judge before in Tapion Sulka's elite competition, Finnish nationals and Finnish Open, but the world championship was still a new experience.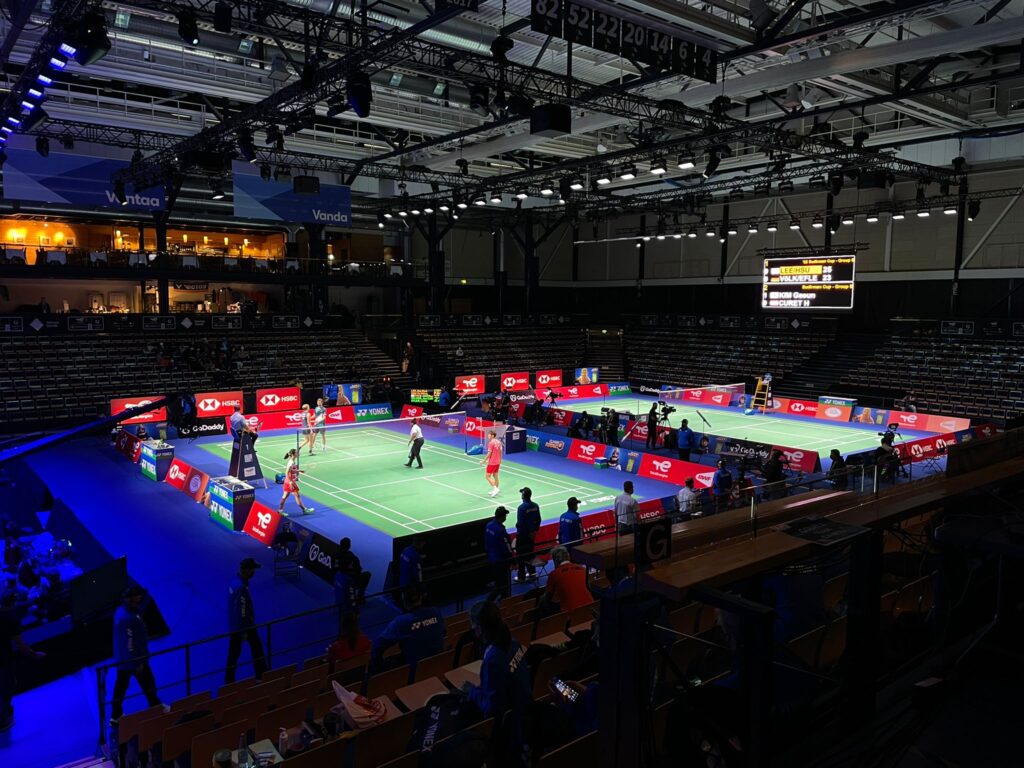 "Line judging at the Sudirman Cup was in many ways similar to what it was like at the Finnish Championships or the Finnish Open. The line judge's job is to act as another pair of eyes for the umpire and monitor where the shuttle lands in relation to the line they are responsible for. However, the experience of line judging at the Sudirman Cup as a whole was quite different. The stakes were high, and naturally there was a lot of responsibility to do ones job well.
The prestige of the tournament was apparent already in the first instructions I was given in my first briefing: line judges were to sit with their hands on their knees, feet planted firmly on the ground at your hips width, back straight. Line judges should also arrive on court with even spacings, sit down and get up at the same time, leave the court in the right order, and start walking when the umpires foot first touches the ground, waiting in the right place. Although our main focus was our job as technical officials, ensuring that we see where the shuttle lands and reporting it loud and clear, it was also very important for us to look as good as possible (and to be seen as little as possible) on television. Although instructions on how to walk on court weren't completely new compared to the Finnish Open for example, they were emphasised more than before and were choreographed in detail from start to finish.
The competition was also set apart by the fact that the Hawkeye monitoring system was implemented to check unseen calls or challenged calls. Hawkeye also brought an extra pressure for the line judges: if you had miscalled and your call had been challenged, everyone would know.
I line judged in ten different matches. I was extremely lucky to be a technical official for some fo the best badminton players in the world. This included Anders Antonsen (ranking 3), Chou Tien Chen (ranking 4) and Anthony Ginting (ranking 5) from men's singles, An Seyoung (ranking 8) from women's singles, Marcus Gideon and Kevin Sukamuljo (ranking 1) and Aaron Chia and Son Wooi Yik (ranking 8 and bronze medalists from Tokyo) in mens doubles, Chloe Birch and Lauren Smith (ranking 13) in women's doubles, and Praveen Jordan and Melati Oktavianti (ranking 4) in mixed doubles. The first starstruck moment I had was when I was waiting on court for the players to arrive for a men's singles match, and I looked at the screen only to see that Chou Tien Chen would be playing in that game. The rest of the week I would get to see even more stars.
Before the tournament I was excited about getting challenged by players. I assumed that I would have such a clear view of my own line that any challenges I would get would be unsuccessful. After making one incorrect call in Anders Antonsen's and An Seyoung's matches, I realised line judging was even more challenging than I thought. It was also hard to not let the incorrect calls affect your attitude or performance in the next rally and the next matches.
For me the incorrect call shown in An Seyoungs game felt quite humiliating, and I had already deemed myself the worst line judge in the history of badminton before the Latvian umpire in that particular game told me he also saw the shuttle landing in, as I had. If a BWF trained umpire can make a mistake, perhaps I can too. Luckily Hawkeye made sure that incorrect calls could be corrected.
It's not optimal to stare at one's own line for the whole match waiting for the shuttle to land near it, but it's better to follow the rally while always keeping in mind that the shuttle can at any moment land near your line. In other words, I got to follow some of the best badminton in the world at few meters distance. All ten games that I line judged in were incredible to watch. The most memorable for me were Anders Antonsen's and Anthony Ginting's mens singles match, and the women's doubles match between Chinese Taipei and Korea. Antonsen's match had innumerous situations where I was confident that Ginting would get a point and the shuttle would land on Antonsen's side of the court. However, Antonsen each time managed to return the shuttle, and not only that, he would return it beatifully and in a way where Ginting wasn't able to keep control of the rally. I remember how confused and impressed I was with how well he could return the shuttle from incredibly difficult positions. In the doubles between Chinese Taipei and Korea, Kong, Lee, and Chand and Lee played aggressive and entertaining badminton with lots of smashes and a very high tempo. I remember especially a rally that only lasted three shots: Lee Sohee received a swip that she wasn't prepared for, she lunged as far as she could to the back of the court, and managed to return the shuttle over the net with a backhand hit from right above the court. Though the return was quite good, it was just high enough for the Taiwanese to kill the shot into the court. Lee and Kong were disappointed in their bad performance whereas I was gobsmacked with the shot Lee had hit.
Other memorable moments in the tournament included my lunch break on Monday where I ate with a BWF official line judge. She had been trained to be a line judge and she goes around the world volunteering in the big tournaments, including the 2021 Tokyo Olympics. It requires dedication and passio for the sport to leave ones home (and in her case her small child) several times a year to go sit in a badminton hall for several 12 hour days. I even heard of a volunteer who pays for their own flights and accommodation to be able to line judge. To think that I complained about waking up at seven to go line judge! Another memorable moment was when we were waiting to go on court next to the warm-up courts, and the Korean team was playing mixed doubles amongst themselves, just as practice. They played incredibly well, and we got to watch from literally a meters distance. We didn't have to focus on a line either, but we just got to enjoy.
Sudirman Cup was an incomparable experience that made me respect line judges even more than before. Waking up at seven was completely worth it, as I got to watch the worlds best players from much closer than the audience that had payed for their tickets!"