Esport offers a free trial period of two weeks to all members of Tapion Sulka. A two-week free training pass gives you a chance to try out the group exercise classes and gyms of Esport Center, Esport Arena and Esport Bristol, and the running track of Esport Arena.
You can use the benefit by picking up your training pass at Espot's reception between 7 and 20 November 2022 and let them know that you are a member of Tapion Sulka.
The benefit applies to all members of Tapion Sulka, but the minimum age limit for gyms and group exercise classes is 14 years.
In addition, there is discounted prices for Esport memberships for members of Tapion Sulka during the trial period.
Next ranking event will be on Saturday 5th of November in Esport Center. Event is free for all the Tapion Sulka members, and everybody is welcome regardless of age and skill level. Competition starts at 10am but it's worth coming to the hall well in advance so you have time to warm up properly. NB! The registration has to be done via myClub latest on the day before the competition at 6pm! More info about the event can be found here. If you have any questions about the event, you can ask them via e-mail ranking@tapionsulka.fi. Welcome!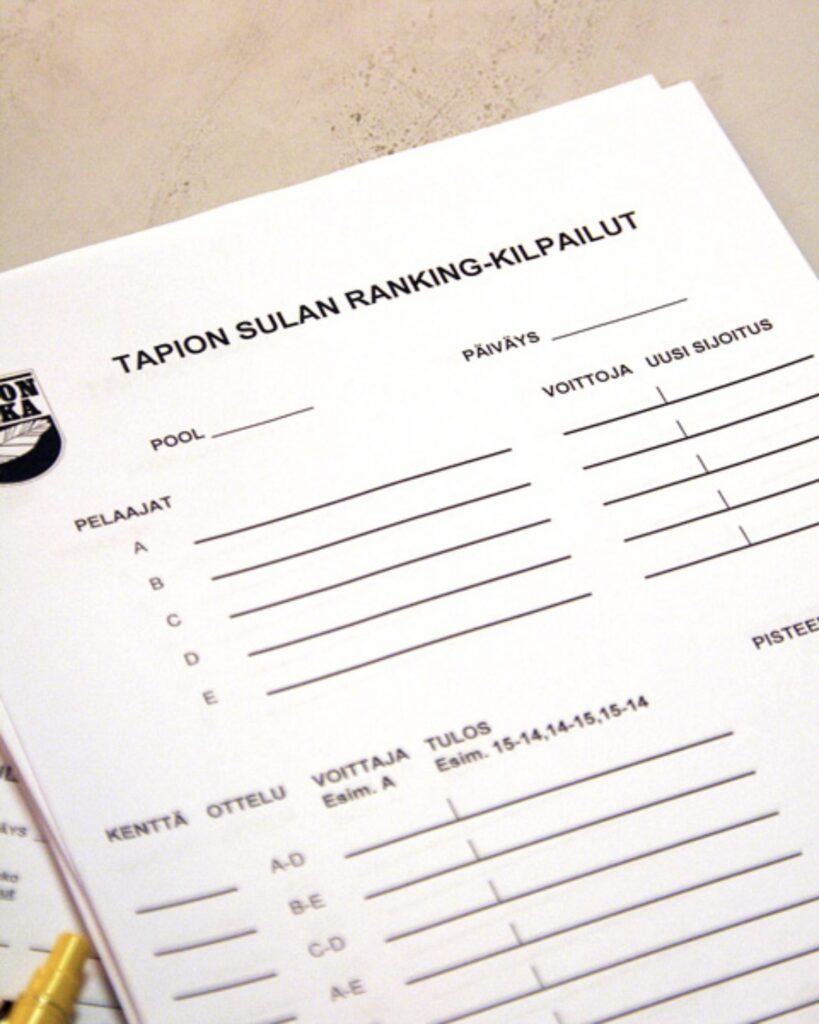 After the age group championships were canceled from week 47, we decided to use the freed Saturday for the long-awaited Junior Skill and Team Competition, which hasn't been organized yet after the covid times. And now we can! So 26.11.2022 Rajakylä at Vantaa is the place to be!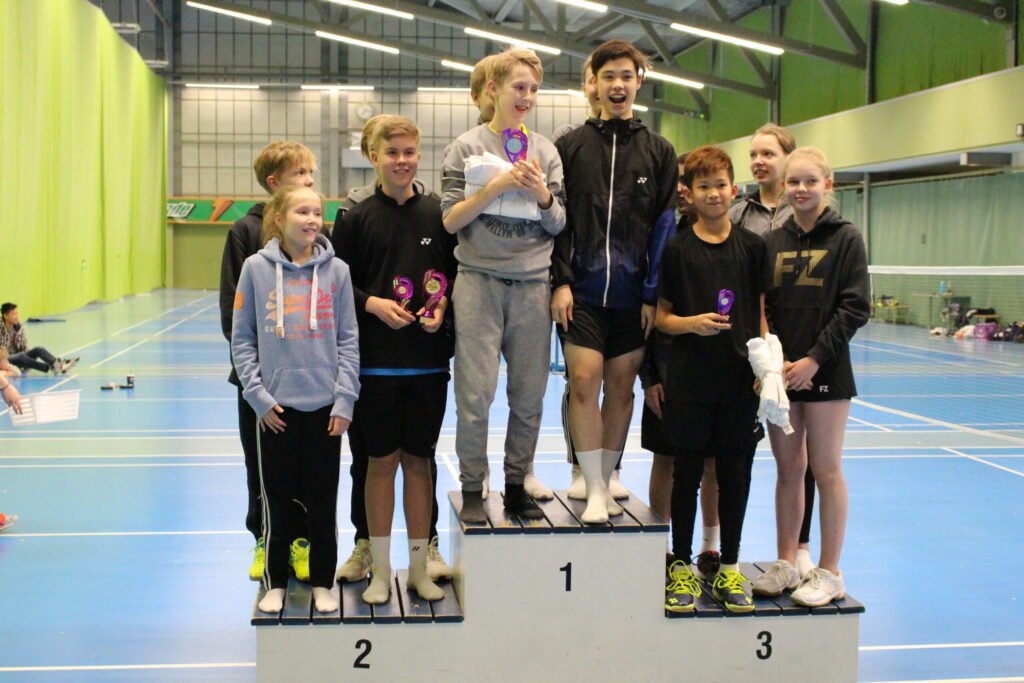 In the Skill and Team Competition, a badminton team competition is played, as well as the "Taitokisa"= Skill competition, which includes a skills course and a badminton quiz. The competitions are separate and both are contested as teams. Almost all the age groups have separate hobby category and competitive category, meaning that players of all levels are welcome to the event! At the end of the day, all participants will receive a participation award with the competition logo, and the best performing teams will be awarded with team trophies. The event has always been extremely popular, a unique place for juniors to experience team play in badminton and spend a fun day with their club mates.
The following categories are played in the competition:
U9 (2014 born and younger)
U11, Hobby and Competitive categories (2012 & 2013)
U13, Hobby and Competitive categories (2010 & 2011)
U15, Hobby and Competitive categories(2008 & 2009)
Those participating in the competitive categories need a license, which can be bought through Suomisport. Hobby categories are very suitable for players who have been to less or no competitions, there the level is moderate. Having fun, learning new things and meeting new friends is more important than winning. Entry fee for U9 category is 10€ and for other categories 25€.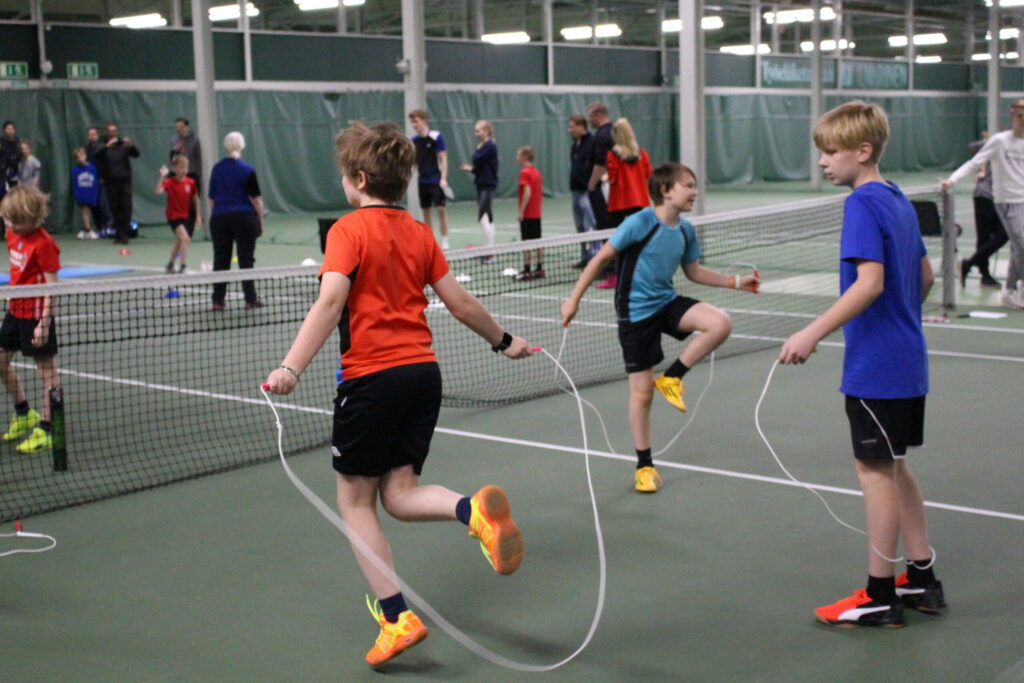 Registration for the competition happens through your own club. Ask your club's coach who will assemble the teams for your club (Tapion Sulka players registrations to Nella by email at nella.siilasmaa@gmail.com). If your club cannot find a team for the junior's age group, it is worth contacting other clubs if you could join their team. This is how it has been done for many years with players coming from smaller clubs, we try to get everyone into the competition who wants to join! Hopefully your coach can help with this, or you can contact other clubs yourself.
During the day, lunch is available at the hall. Lunch must be booked in advance when registering! Chicken pasta & Seitan pasta + salad and bread are available, for €9.50. Allergies are taken into account.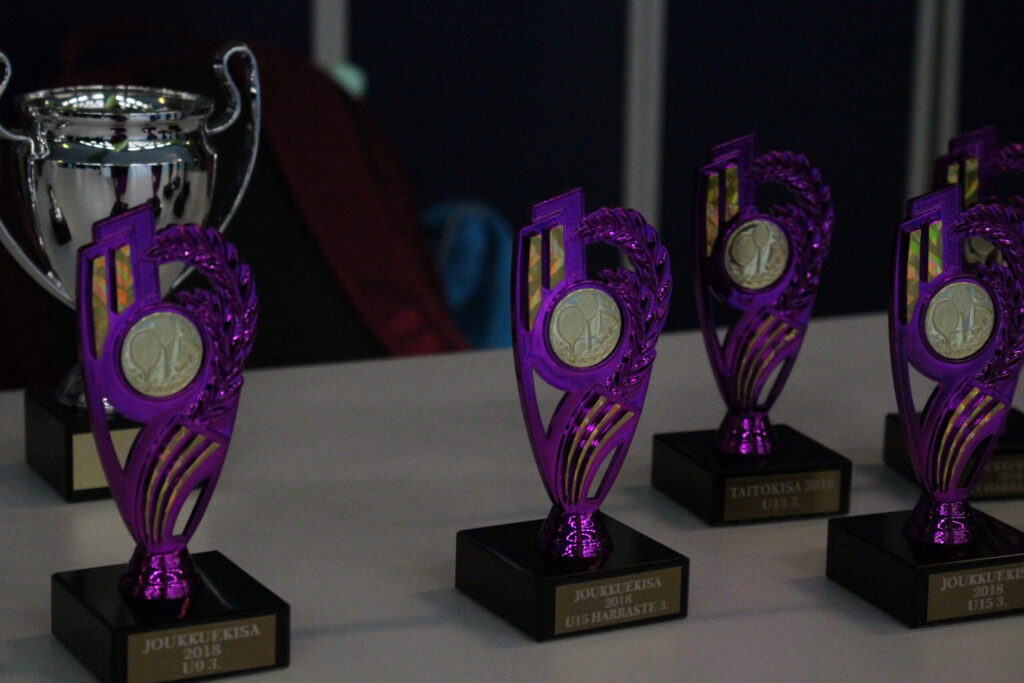 Summary of the important details
When: 26.11.2022
Where: Rajakylän tenniskeskus, Latukuja 2, 01280 Vantaa
What: Season's best junior event
How: Registrations through your own club. Remember to book lunch if you wish
For who: All juniors born in 2008 after, for all the experienced competitors, novice competitors and also hobby players
See you there!
Take a look at the challenges in Taitokisa's introductory video in advance (same ones as in 2020): https://www.youtube.com/watch?v=ruWfmc3O6gI&t=1s
And here you can check the atmosphere of the 2020 and 2018 competitions:
Tapion Sulkas trainings are held normally during the autumn holiday week (17th - 23rd of October). Welcome!
The next ranking events will be held on:
October 8th 2022
November 5th 2022
December 10th 2022
The registration for the first event is open in myClub and it has to be done latest on the day before the competition at 6pm! More info about the event can be found here. If you have any questions about the event, you can ask them by e-mai (hallitus@tapionsulka.fi).
In our wide range of practice groups, there are groups for the youngest members of the family as well, all the way to 4-year-olds. Here we present Family Badminton (Perhesulkis), Mini Badminton (Minisulkis) and Mini Aces (Miniässät) groups. Check out also our other group offerings here and sign up! You can try any of the groups twice free of charge if you wish to do so. You can contact the club's head coach Lasse Lindelöf to get more info about the testing of the groups (e-mail: lasse.lindelof@tapionsulka.fi).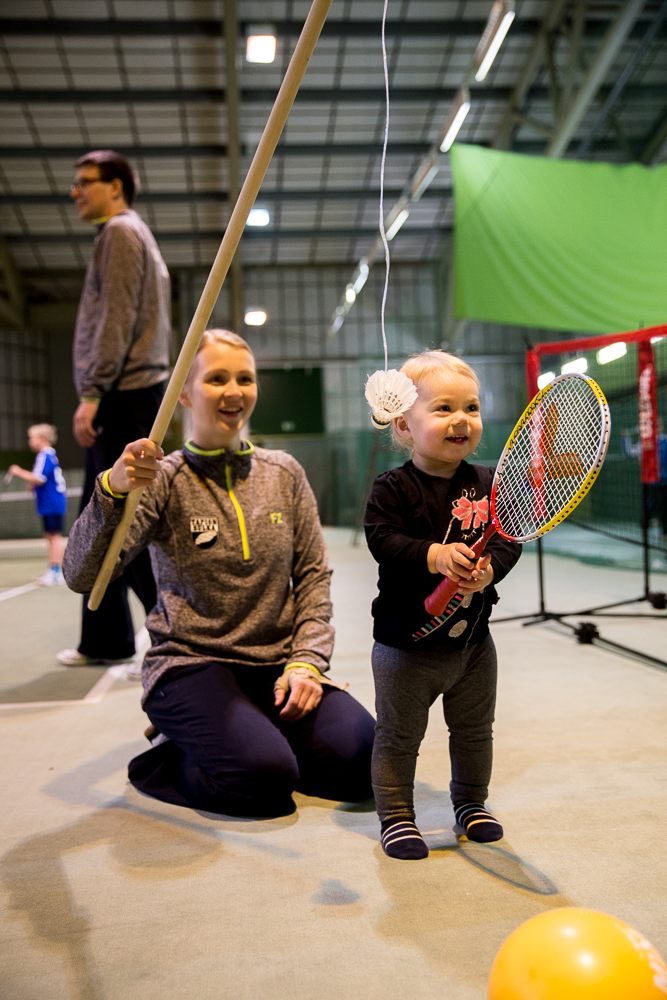 Family Badminton (Perhesulkis): Start a awesome hobby together with your 4-6-year-old child!
Family Badminton is a great way for children under school age to get to know badminton and basic sports skills together with a parent. For parents, Family Badminton offers a light sports moment and time together with the child. Family Badminton is on duty every Thursday at 16:30-17:30, coached by six time Finnish women's doubles champion Sonja Pekkola!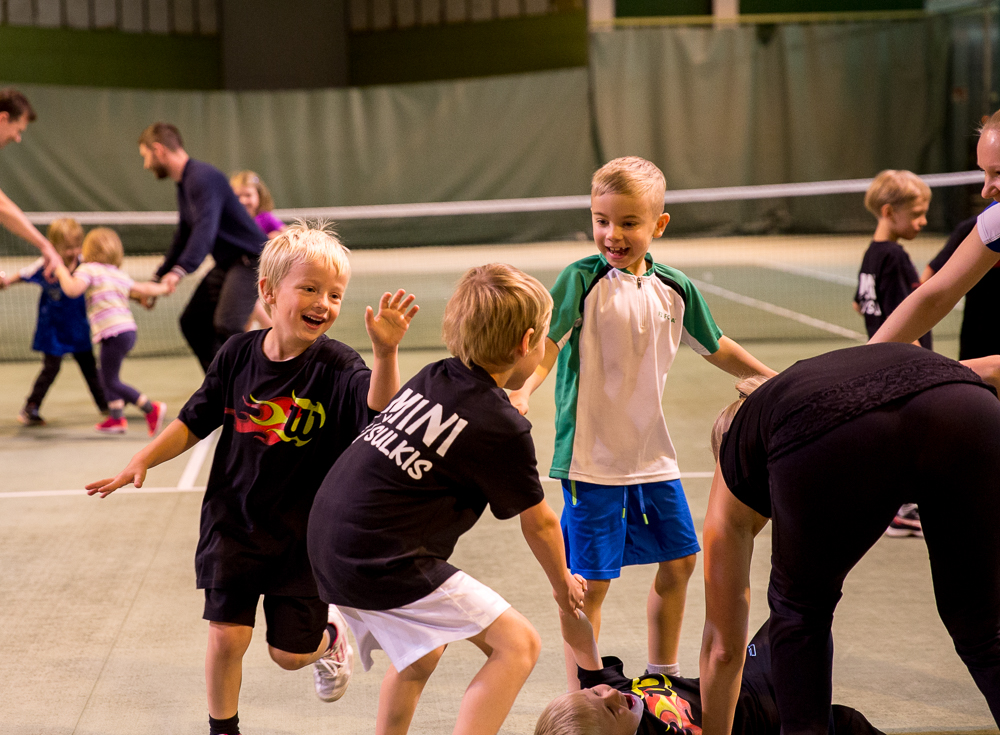 Mini Badminton (Minisulkis): Basics of badminton through fun games and playing!
In Mini Badminton, the child gets to already get involved in independent hobby with the help of other peers and excellent coaches. In Mini Badminton, kids practice real badminton, but through play-like exercises. Depending on the level of the group, during the season we can also get to a level where kids get to play "real" matches. The goal of Mini Badminton is to get excited about the sport and get a good base from which they can try harder groups in the future. The Mini Badminton practices are on Mondays from 17:00 to 18:00, and the current women's singles Finnish champion Nella Siilasmaa is the head coach of the group, and two of our club's top juniors, Annika Vokkolainen and Jesse Siilasmaa, are assistant coaches!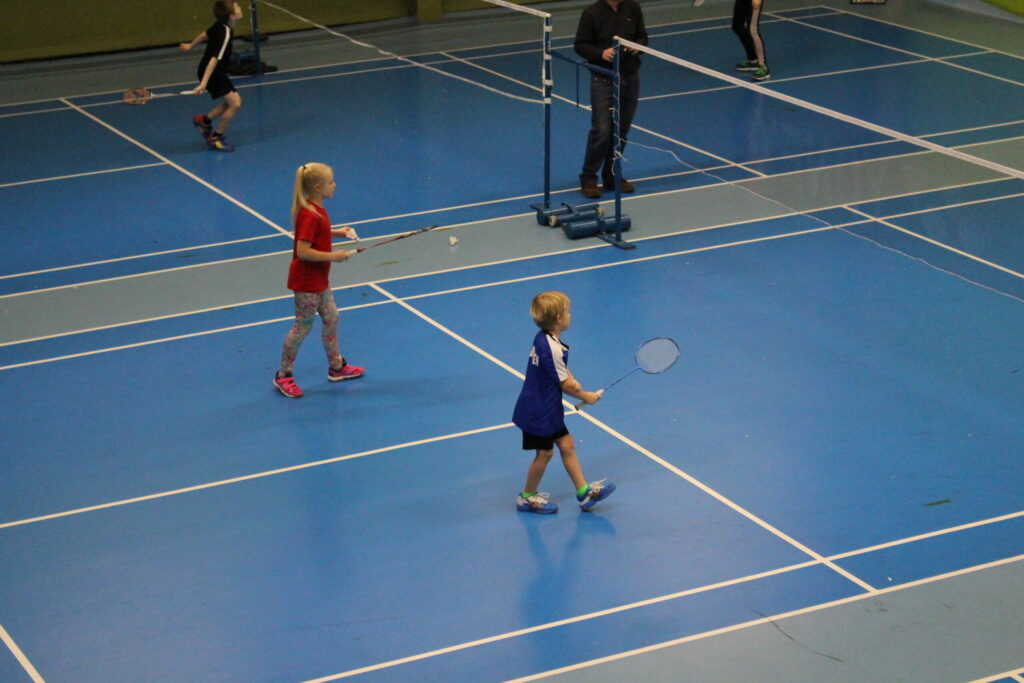 If the child already hits the shuttle fairly well and is immediately excited to develop and play in trainings, we recommend to come and try Mini Aces (Miniässät) groups. Miniässät has a lot of Mini Badminton players from previous years. In the Miniässät groups we train and practice skills a little more compared to the Minisulkis group, but still through fun playfulness. The groups are aimed at 8-11 year olds, but 6-year-olds have also participated in the groups. Our club offers Miniässät groups on Mondays from 17:30 to 19:00, Wednesdays from 16:30 to 17:30 and Thursdays from 16:30 to 17:30. Come and try it out! The coaches can also help with finding the best group for each child.