Last week a historic badminton event was held in Finland as the Sudirman Cup (world mixed team championship) was played in Vantaa. We had most of badminton's biggest stars here in Finland and for example the winning team China had more than one Tokyo olympic medalist in their team. Now we get to hear what the experience was like seen from the line judge's bench as Mikko was helping in the competition as a volunteer. Mikko has experience from all kinds of technical official duties, like announcer, showing points, giving medals etc. He has also been a line judge before in Tapion Sulka's elite competition, Finnish nationals and Finnish Open, but the world championship was still a new experience.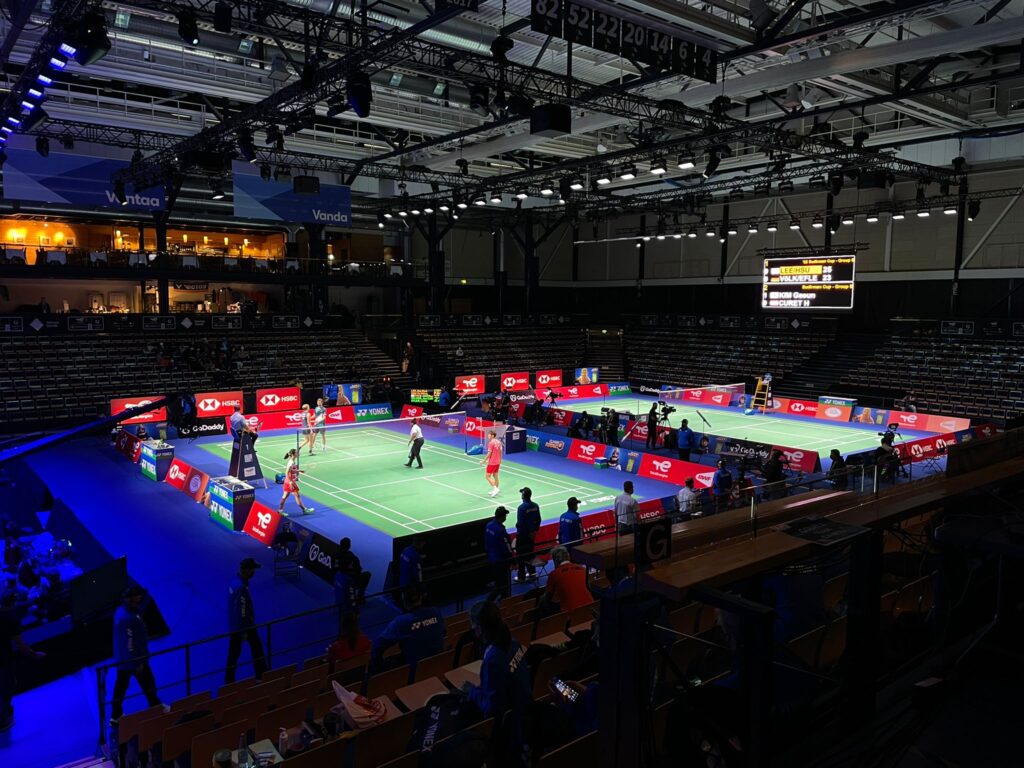 "Line judging at the Sudirman Cup was in many ways similar to what it was like at the Finnish Championships or the Finnish Open. The line judge's job is to act as another pair of eyes for the umpire and monitor where the shuttle lands in relation to the line they are responsible for. However, the experience of line judging at the Sudirman Cup as a whole was quite different. The stakes were high, and naturally there was a lot of responsibility to do ones job well.
The prestige of the tournament was apparent already in the first instructions I was given in my first briefing: line judges were to sit with their hands on their knees, feet planted firmly on the ground at your hips width, back straight. Line judges should also arrive on court with even spacings, sit down and get up at the same time, leave the court in the right order, and start walking when the umpires foot first touches the ground, waiting in the right place. Although our main focus was our job as technical officials, ensuring that we see where the shuttle lands and reporting it loud and clear, it was also very important for us to look as good as possible (and to be seen as little as possible) on television. Although instructions on how to walk on court weren't completely new compared to the Finnish Open for example, they were emphasised more than before and were choreographed in detail from start to finish.
The competition was also set apart by the fact that the Hawkeye monitoring system was implemented to check unseen calls or challenged calls. Hawkeye also brought an extra pressure for the line judges: if you had miscalled and your call had been challenged, everyone would know.
I line judged in ten different matches. I was extremely lucky to be a technical official for some fo the best badminton players in the world. This included Anders Antonsen (ranking 3), Chou Tien Chen (ranking 4) and Anthony Ginting (ranking 5) from men's singles, An Seyoung (ranking 8) from women's singles, Marcus Gideon and Kevin Sukamuljo (ranking 1) and Aaron Chia and Son Wooi Yik (ranking 8 and bronze medalists from Tokyo) in mens doubles, Chloe Birch and Lauren Smith (ranking 13) in women's doubles, and Praveen Jordan and Melati Oktavianti (ranking 4) in mixed doubles. The first starstruck moment I had was when I was waiting on court for the players to arrive for a men's singles match, and I looked at the screen only to see that Chou Tien Chen would be playing in that game. The rest of the week I would get to see even more stars.
Before the tournament I was excited about getting challenged by players. I assumed that I would have such a clear view of my own line that any challenges I would get would be unsuccessful. After making one incorrect call in Anders Antonsen's and An Seyoung's matches, I realised line judging was even more challenging than I thought. It was also hard to not let the incorrect calls affect your attitude or performance in the next rally and the next matches.
For me the incorrect call shown in An Seyoungs game felt quite humiliating, and I had already deemed myself the worst line judge in the history of badminton before the Latvian umpire in that particular game told me he also saw the shuttle landing in, as I had. If a BWF trained umpire can make a mistake, perhaps I can too. Luckily Hawkeye made sure that incorrect calls could be corrected.
It's not optimal to stare at one's own line for the whole match waiting for the shuttle to land near it, but it's better to follow the rally while always keeping in mind that the shuttle can at any moment land near your line. In other words, I got to follow some of the best badminton in the world at few meters distance. All ten games that I line judged in were incredible to watch. The most memorable for me were Anders Antonsen's and Anthony Ginting's mens singles match, and the women's doubles match between Chinese Taipei and Korea. Antonsen's match had innumerous situations where I was confident that Ginting would get a point and the shuttle would land on Antonsen's side of the court. However, Antonsen each time managed to return the shuttle, and not only that, he would return it beatifully and in a way where Ginting wasn't able to keep control of the rally. I remember how confused and impressed I was with how well he could return the shuttle from incredibly difficult positions. In the doubles between Chinese Taipei and Korea, Kong, Lee, and Chand and Lee played aggressive and entertaining badminton with lots of smashes and a very high tempo. I remember especially a rally that only lasted three shots: Lee Sohee received a swip that she wasn't prepared for, she lunged as far as she could to the back of the court, and managed to return the shuttle over the net with a backhand hit from right above the court. Though the return was quite good, it was just high enough for the Taiwanese to kill the shot into the court. Lee and Kong were disappointed in their bad performance whereas I was gobsmacked with the shot Lee had hit.
Other memorable moments in the tournament included my lunch break on Monday where I ate with a BWF official line judge. She had been trained to be a line judge and she goes around the world volunteering in the big tournaments, including the 2021 Tokyo Olympics. It requires dedication and passio for the sport to leave ones home (and in her case her small child) several times a year to go sit in a badminton hall for several 12 hour days. I even heard of a volunteer who pays for their own flights and accommodation to be able to line judge. To think that I complained about waking up at seven to go line judge! Another memorable moment was when we were waiting to go on court next to the warm-up courts, and the Korean team was playing mixed doubles amongst themselves, just as practice. They played incredibly well, and we got to watch from literally a meters distance. We didn't have to focus on a line either, but we just got to enjoy.
Sudirman Cup was an incomparable experience that made me respect line judges even more than before. Waking up at seven was completely worth it, as I got to watch the worlds best players from much closer than the audience that had payed for their tickets!"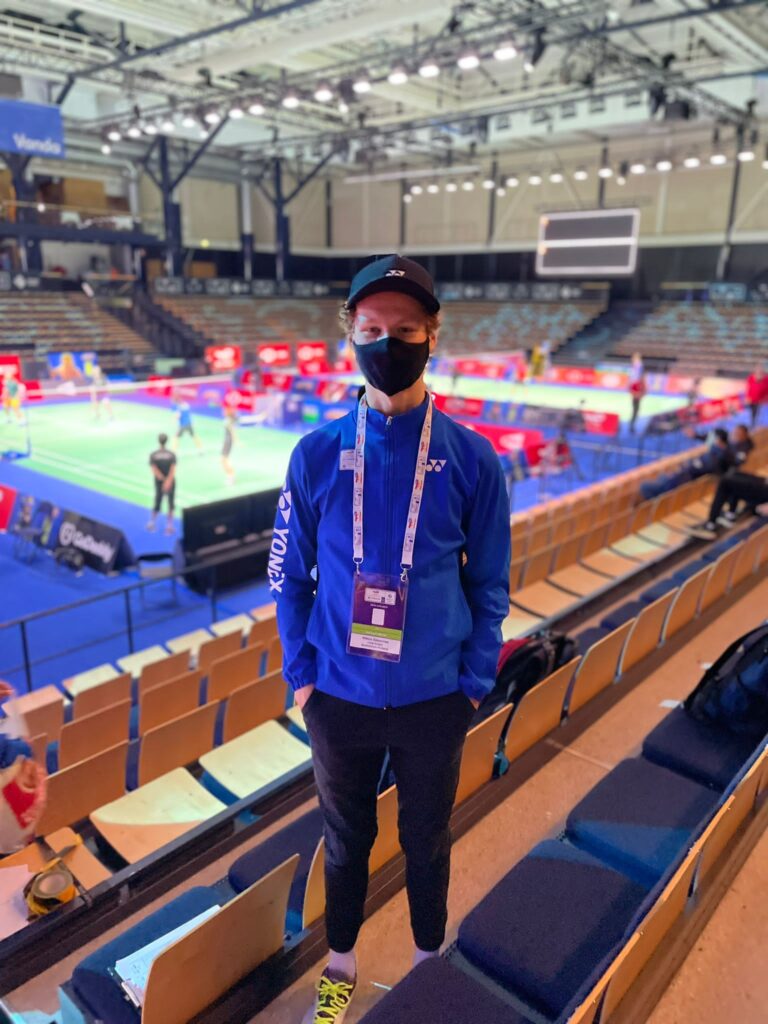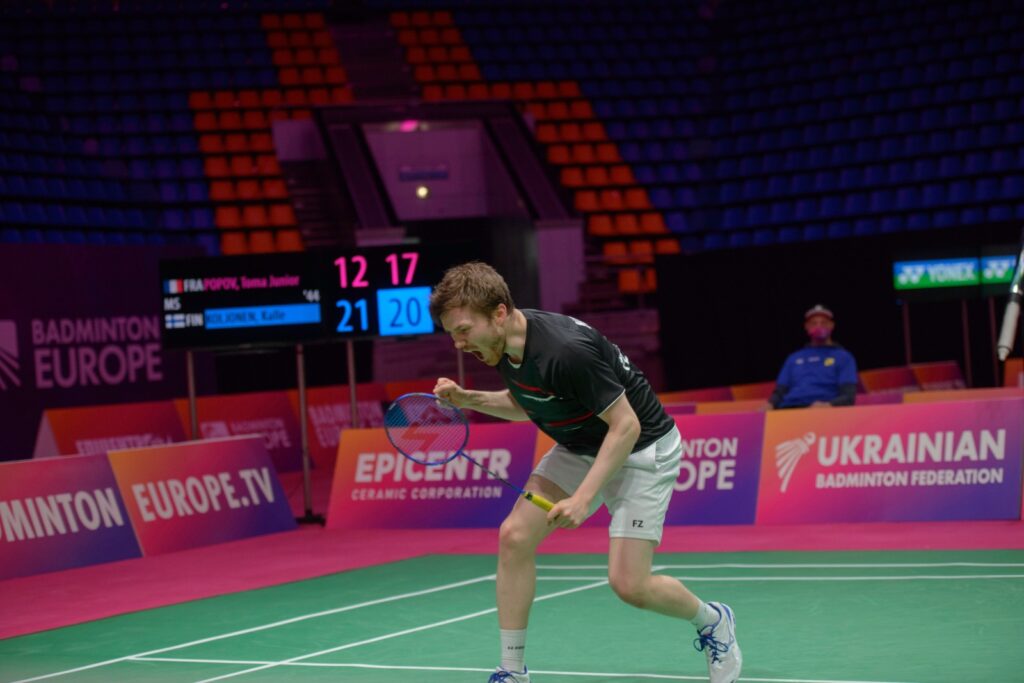 Kalle Koljonen's sensational playing brought Finland our first European championship medal at end of last April. The achievement was historical - no Finnish player has ever accomplished the same result - and left Kalle himself speechless perhaps the first time in his career. But what does Kalle have to say now about the journey in Ukraine that led to the medal and his spot at the Olympic Games? Tapion Sulka's communications committee got in touch with Kalle in the middle of summer heat and asked a few questions about the medal and his plans for the future.
Kalle started his journey at the Europeans by defeating the Portuguese player, Bernando Atilano, in straight games 21-18, 21-7. Next on the line was the tournament's 7th seeded French player Toma Junior Popov, who was known to be a tough player to beat. Before the tournament Kalle was ranked nr 80 in the world and Popov on the other hand was ranked 42. Despite the odds and a tough opponent Kalle took home the win with a brilliant performance, winning 21-12, 21-17, and got himself a ticket to the quarter finals.
Kalle's thoughts: - Well, against the Portuguese player I was still trying to find my touch and feeling... I had a problem with my back a few weeks before the tournament and that's why I was still very careful in the first set of the first match of the tournament as I wasn't sure how my back would feel... When I noticed that it's totally fine, I put my foot on the gas pedal in the second set and it came home very easily.
-I was feeling very relaxed in the match against Popov. I was an underdog and I knew that Popov had his hopes quite high as he had had some successes during the tournaments leading up to the Europeans. In the first set I was much more ready and I won the set quite easily. Popov was more awake during the second set and I made a few easy mistakes... He was leading until 10-15 when I managed to win 8 points in a row! After that I kept the lead and won the match. Fun fact: if you hear Popov's coach (his father) shout instructions to him in Bulgarian and he is shouting back, then you know that his head is more or less gone.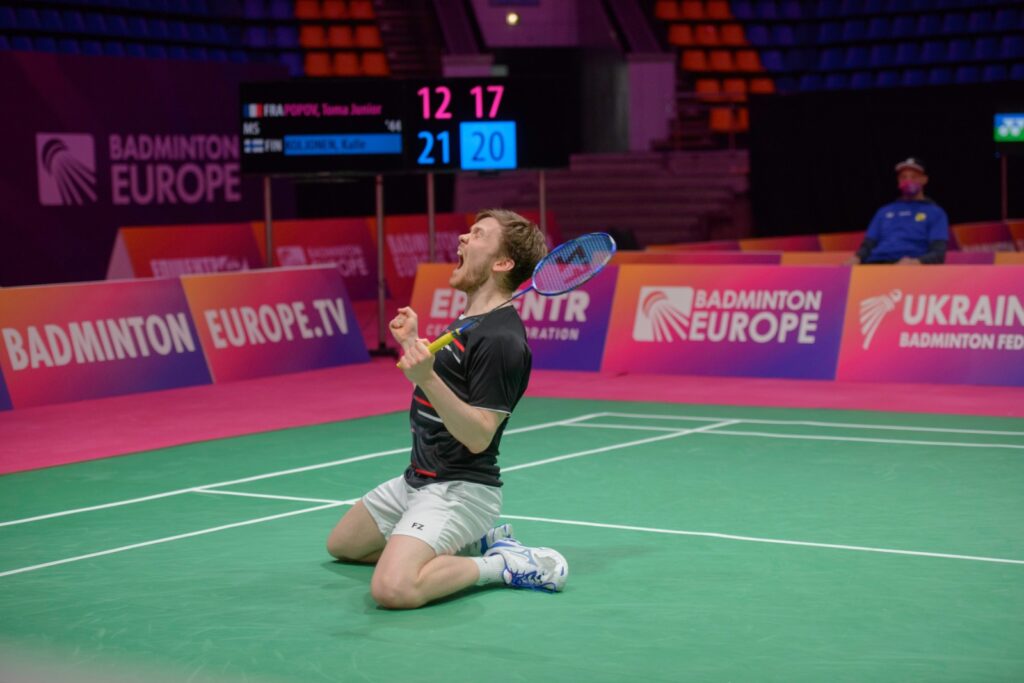 In the quarter finals the level of the opponents got even higher and Kalle faced off with Rasmus Gemke from Denmark. He was seeded 3rd in the tournament and had a world ranking of 12 at the time. But Kalle had truly found his groove and got the win again in straight sets 21-15, 21-19. The win guaranteed a spot in the semifinals and the first individual championship medal for Finland in badminton history.
-Of course it was truly unbelievable that I had won a medal and even more so since it was the first in history for Finland! It's still a bit hard to believe... My match in the quarter finals was relaxed and I was having a good time on court (I have learned to enjoy the tight situations: the tighter the more fun I am having actually). I can't remember a lot from the last points from the game. I have watched videos from it where I saw that I lifted the shuttle and defended Gemke's attack with an okay defense shot and the next shot from Gemke went to the net... I guess I was in a "flow" mindset as I can't really remember much. After the match I wasn't thinking about the medal, I was still focusing on the task at hand, the tournament wasn't over yet and I still had to play the next day. It was only after my semifinal when arriving back to the hotel room and I layed down on the floor when it started to sink in what I had accomplished.
In the top four of the men's singles category there were 3 Danish players as expected: Viktor Axelsen, Anders Antonsen and Hans-Kristian Solberg Vittinghus. They were number one, two and four seeds in the tournament. Kalle on the other hand was unseeded and surprised everyone, including himself, by reaching the semifinals.
In the semifinal Kalle faced the second ranked player in the world, Denmark's Viktor Axelsen, who won the encounter 21-14, 21-14.
-In the semifinal my attitude was to have fun on the court again. It was a memorable moment when after the match Denmark's coach came to congratulate me on the medal and he said that the most absurd thing in the match was when we were introduced as the 2nd and the 80th in the world ranking. He said that my level didn't look like someone's whose ranking was 80 and that just made my day.
By achieving a bronze medal Kalle wrote his name in the history books and got himself a well-earned spot to the Olympic Games.
Kalle's thoughts: -I am looking forwards to the Olympics even though they won't be the same as usual (thanks to Covid). My goal is to be able to play at the same level as I was playing in the Europeans, and if I can manage that I think it would bring results. I haven't set any specific goals for the Games. I'll just play one game at the time. At the moment I am in Denmark preparing for the Games.
-Outside the court I am not sure what to expect from the experience as I am not sure what kind of arrangements there will be (in the Olympic village). I will get more information about that closer to the Games. After Tokyo my eyes are on the next season, hoping to have more normal traveling and competing experiences again after 1,5 years. I am especially looking forward to traveling without needing to quarantine.
Kalle also has some tips for the young players who are possibly dreaming to step onto the Olympic court themselves one day: -My advice for the youngsters is not to be so hard on yourselves when you face disappointments, usually nothing actually changes in life! A good sense of humor while playing brings out the best results!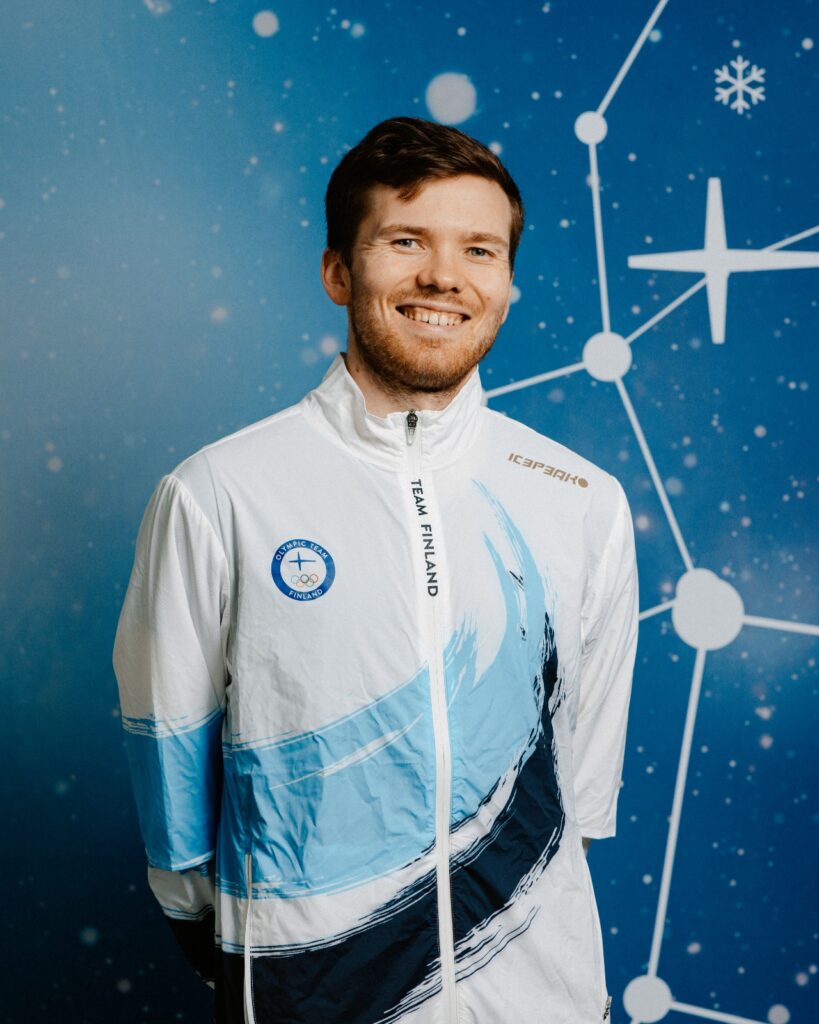 Hello!
Thank you for everyone who filled out the inquiry regrading the club's communication! The communication strategy and plan that are created based on your answers, the club's strategy and help of tiedotusvaliokunta will be presented on Thursday 17th of December at 5 pm on Zoom – every member is welcome to join!
Happy holidays!
Best regards,
Eerika Kuurne
Join a meeting: https://tuni.zoom.us/j/64239485170?pwd=TnZxdCtUL1QwbXhJWFdjcVQyUEQyZz09
Hello everyone!
My name is Eerika and I'm a former TS player/coach and a current communication studies student from Tampere University. As a part of my studies I'm running a project in which I produce a communication strategy and a communication plan for the club.
So dear members, now you have an opportunity to make a difference:
By filling out an inquiry (link below) you can express your thoughts regarding the club's communication. The inquiry will be anonymous. Every members' input matters.
Additionally, there will be opportunities for feedback as the project progresses, at the latest in the final walkthrough
To the survey from here! The inquiry will be open until Monday 30.11.2020 at 8 pm.
The project plan is attached here (unfortunately only in Finnish) but if you have any questions or comments please do not hesitate to contact me via email: eerika.kuurne@tuni.fi
Thank you in advance! Let's work together for better communication!
Best regards,
Eerika Kuurne
Viestinnän monitieteinen tutkinto-ohjelma
Tampere University
Teeässäläinen 🙂